Due to material availability please call for pricing.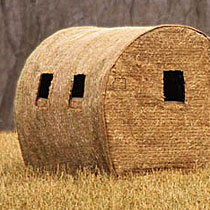 The Outfitter Bale Blind is our largest and most popular Bale Blind. 2 person blind suitable for bow, crossbow or gun hunting. 6 "Silent Slide Window Covers" 2 on front, 2 on back, and 1 on each end. 4 Corner Window Openings with Cover. Durable, removable hand sewn cover made from water resistant woven polypropylene cover and natural blanket made with combination of straw and other long lasting natural fibers.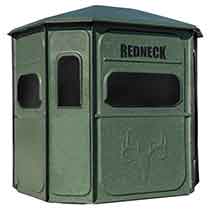 The Stalker is the ultimate 2 person gun blind. Modeled off the Predator 5x6 design, it has a total of 8 shooting windows for rifle hunters, along with the versatility to hunt with a bow or crossbow out of the corner windows, providing maximum shooting field visibility.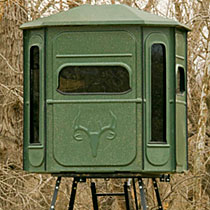 The "Predator 360" Crossover Blind is the ultimate multi-purpose hunting blind. The long vertical windows and oversized horizontal windows make it ideal for any type of hunting, whether shooting a compound bow, traditional bow, crossbow or rifle.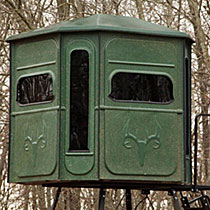 Do you want the Best Bow Blind available? How about the Best Gun Blind Available? How about the Best Crossbow Blind Available? The Buck Palace 360 6X6 Crossover Blind is hands down the best blind on the market for whether you are hunting with a gun, bow or crossbow.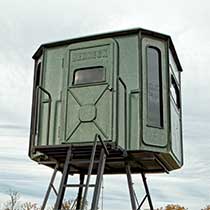 The Big Country Blind is perfect for the hunter who needs more leg and arm room or has lots of gear. There is no better blind in the world for two hunters and a camera man. The room, along with the visibility for all hunters is absolutely amazing.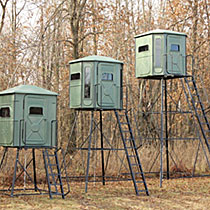 Redneck Deluxe Powder Coated Stand Features: Made from 3/16" powder-coated bent steel to resist rusting, Universal size to fit any Redneck Blind, Stand heights available from 5ft to 15ft, Hand rail on ladder for safety.
10' Powder Coated Stand
CALL FOR PRICING
CONTACT US FOR SHIPPING QUOTE
15' Powder Coated Stand
CALL FOR PRICING
CONTACT US FOR SHIPPING QUOTE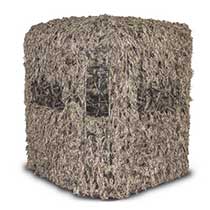 With its spacious 6-foot by 6-foot interior, there's plenty of room for up to three adults or two adults and two children to hunt comfortably—whether that's with a bow, gun or crossbow. The Soft Side 360° Ghillie Deluxe 6X6 Blind sports a heavy-duty double-stitched 600 denier flame-retardant Ghille cover, and the double-zipper design allows the windows to be opened to any configuration for maximum visibility while maintaining the highest level of concealment. The Ghille cover easily blends in with a variety of backgrounds without having to brush in.
Feel free to contact us with questions and/or comments.