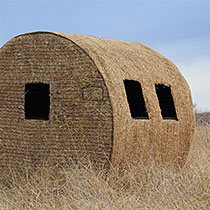 The Sportsman Bale Blind is the perfect 2 person ground blind to use whether you are big game hunting, turkey hunting, predator hunting, scouting, or just want a dry, comfortable place to enjoy and film nature.
View More Details » Regular Price: $649.99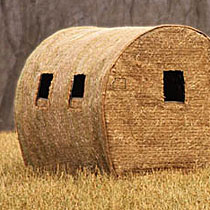 The Outfitter Bale Blind is our largest and most popular Bale Blind. 2 person blind suitable for bow, crossbow or gun hunting. 6 "Silent Slide Window Covers" 2 on front, 2 on back, and 1 on each end. 4 Corner Window Openings with Cover. Durable, removable hand sewn cover made from water resistant woven polypropylene cover and natural blanket made with combination of straw and other long lasting natural fibers.
View More Details » Regular Price: $699.99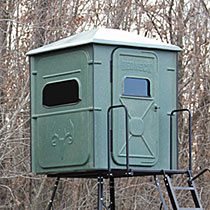 The industries first true multi-function hunting blind, the Redneck Trophy Tower 5X5 Crossover blind features 14" tall x 36" wide tinted tempered automotive glass windows that not only maximize visibility, but give the gun and crossbow hunter maximum room and maneuverability out of the window to get the perfect angle for any shot.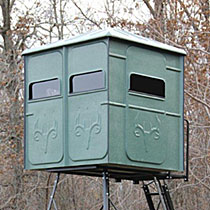 The Shooter is the ultimate 2-3 person gun blind. It has two large front and two large side windows, providing maximum shooting field visibility. The blind features shelving complete with gun holders underneath the windows on 3 sides of the blind and 4 corner shelves on the backside of blind to store all the gear and accessories a hunter might need.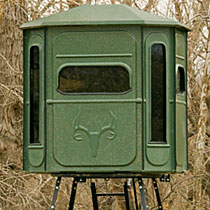 The "Predator 360" Crossover Blind is the ultimate multi-purpose hunting blind. The long vertical windows and oversized horizontal windows make it ideal for any type of hunting, whether shooting a compound bow, traditional bow, crossbow or rifle.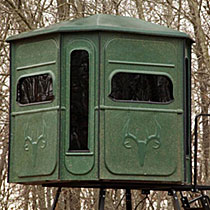 Do you want the Best Bow Blind available? How about the Best Gun Blind Available? How about the Best Crossbow Blind Available? The Buck Palace 360 6X6 Crossover Blind is hands down the best blind on the market for whether you are hunting with a gun, bow or crossbow.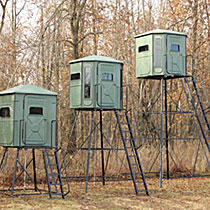 Redneck Deluxe Powder Coated Stand Features: Made from 3/16" powder-coated bent steel to resist rusting, Universal size to fit any Redneck Blind, Stand heights available from 5ft to 15ft, Hand rail on ladder for safety.
5' Powder Coated Stand
$649.99
CONTACT US FOR SHIPPING QUOTE
10' Powder Coated Stand
$899.99
CONTACT US FOR SHIPPING QUOTE
5' Powder Coated Stand Extension
$389.99
CONTACT US FOR SHIPPING QUOTE
Feel free to contact us with questions and/or comments.